WHY TO CHOOSE A "PASSIVHAUS"-VILLA IN MONTEROMERO?
At Monteromero we want to be at the forefront of innovative and sustainable constructing, which is why we offer all our customers the possibility of adapting their homes to the new "Passivhaus" system that is revolutionizing the world of real estate.
This system is a construction standard born in Germany that, thanks to its many advantages for owners and environment, is spreading rapidly across all climates and regions, including Spain. In fact, last fall the number of square meters that were officially certified according to the Passivhaus standard reached one million, a figure that continues growing at an increasingly faster pace. Also, the German Passivhaus Institute believes that only about 10% of all buildings constructed under this standard are officially certified, which is why the real figure is probably around 10 times higher. This accounts to estimated 50,000 Passivhaus buildings around the world.
HOW DOES THE PASSIVHAUS SYSTEM WORK?
The system combines maximal interior comfort with near-zero energy consumption thanks to its intelligent way of using the building envelope, shading, different renewable energies and a thermal regulation mechanism incorporated into a sophisticated system of controlled ventilation.
WHAT DOES IT MEAN FOR YOU TO LIVE IN A HOME UNDER THE PASSIVHAUS STANDARD?
A saving in energy costs of up to 80% compared to homes built under basic construction standards.
More quality of life thanks to a stable temperature in every room throughout the year.
Quality air thanks to a constant ventilation and continuous fresh air supply that prevents the formation of moisture damages and ensures a perfect hygiene of breathing air.
Significant tax advantages thanks to the new energy rebate on Spanish property tax (IBI) created by the Ministry of Finance.
In addition, the new European legislation on energy efficiency in construction (19/05/2010) requires all new buildings under private ownership to be adapted before 2020 to the technical parameters of nearly zero-energy buildings like the ones of the Passivhaus standard.
By fulfilling these requirements today with the help of our expert team, our customers will avoid costly reforms in the future and will be able to enjoy since the first day all the advantages a Passivhaus offers – in benefit of the welfare of the whole family.
Read more about the Passivhaus standard on the Passivhaus Building Platform.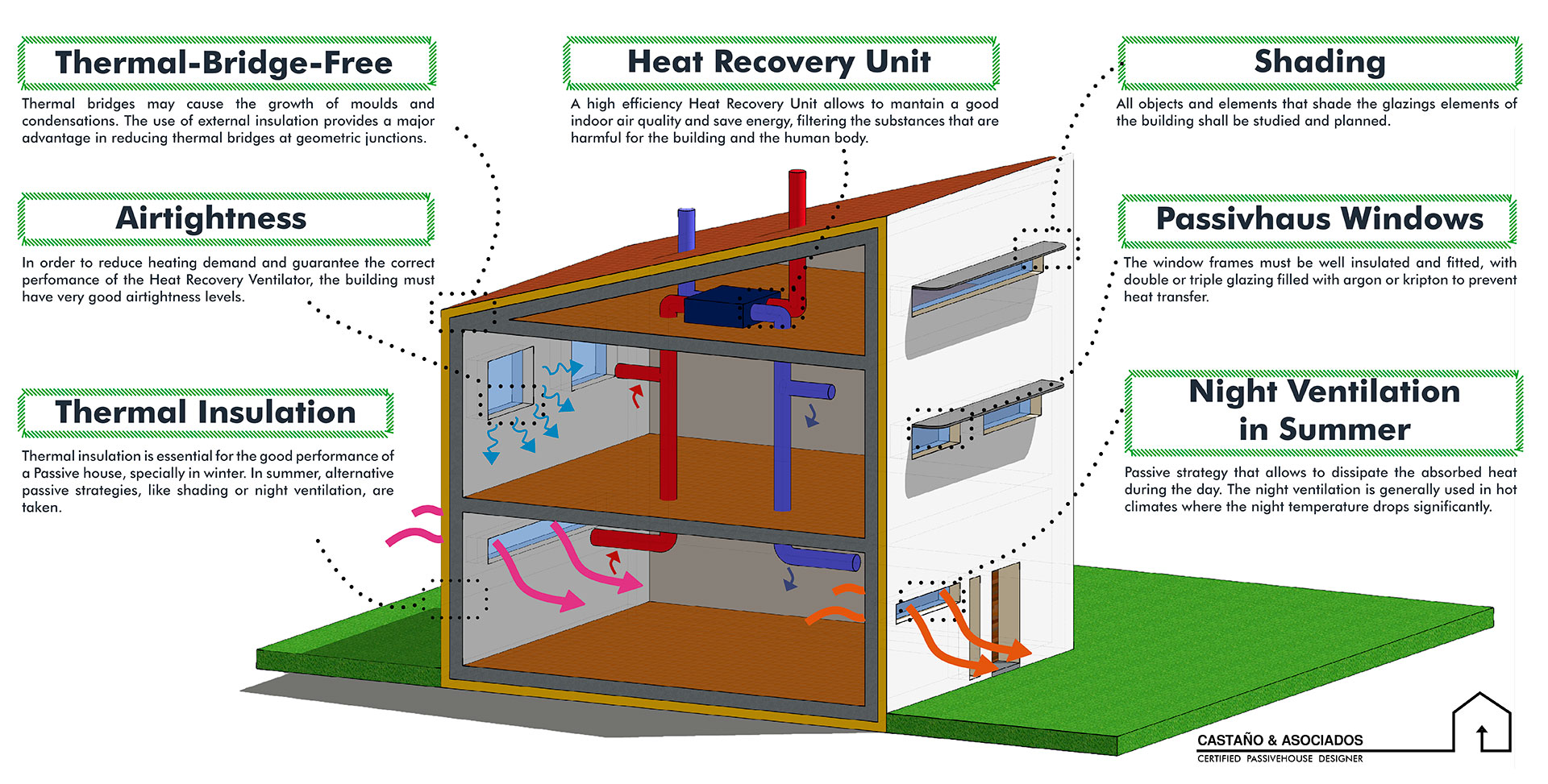 Fuente: Castaño & Asociados